Back to Finding Aids
Washington State University Libraries
Manuscripts, Archives, and Special Collections
Pullman, WA 99164-5610 USA
(509) 335-6691
Inquiries
PC 142
George Bedirian
Photographs of Palouse Landscapes
1985
This collection was purchased in 1985 by the Washington State University (WSU) Libraries' Manuscripts, Archives, and Special Collections (MASC) and accessioned as MS1985-38. The collection was kept framed and mounted in MASC until September 22, 2011, when it was unframed and processed as this collection by University Archivist and Photographs Curator Mark O'English.
Number of Containers: 1
Linear feet of Shelf Space: 1.5
Number of Images: 11
BIOGRAPHY
George Bedirian (1939-) began photographing the Palouse region in 1969, and in 1987 a number of his photographs were compiled and published as Palouse Country: An Essay in Photographs. An updated version would be published in 2002 simply as Palouse Country. His works have been exhibited worldwide; a number of his images were hosted in an exhibit at WSU's Manuscripts, Archives, and Special Collections in the summer of 1983.
ARRANGEMENT AND DESCRIPTION
This collection consists of 11 color photographs of Palouse region photographs, primarily landscapes and aged farm buildings. They help document the evolution of the farm-based society and architecture of the region. The images in the collection are untitled and undated (the framing for each was signed and dated by Bedirian in 1985), and are in no particular order save that the seven larger (11"x17") are located under the four smaller (8"x10") images.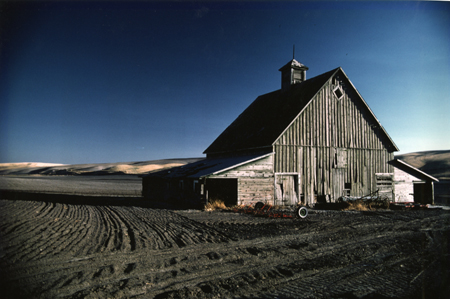 ACCESS
This collection is open and available for research use. Copyright restrictions apply; MASC has no documentation regarding ownership/reproduction rights for these images.
PREFERRED CITATION
The suggested citation for the collection is:
[Item Description]
George Bedirian Photographs of Palouse Landscapes, 1985 (PC 142)
Manuscripts, Archives, and Special Collections
Washington State University Libraries
Pullman, WA