Back to Finding Aids
Washington State University Libraries
Manuscripts, Archives, and Special Collections
Pullman, WA 99164-5610 USA
(509) 335-6691
Inquiries
PC 135
Joseph Beckman Photographs of Long Lake Dam Construction
1910-1915
This collection was received as MS 88-37 at WSU Libraries' Manuscripts, Archives, and Special Collections on September 16th, 1988 from Mrs. James Menzies (nee Marian Beckman). The photographs had apparently been compiled by Joseph "Joe" Carl Beckman, and his wife, Eunice Coffman Beckman (d. 1976-12-21). The collection was processed by University Archivist Mark O'English in January, 2010.
Number of Containers: 1 box
Linear Feet of Shelf Space: .25
Number of Images: 147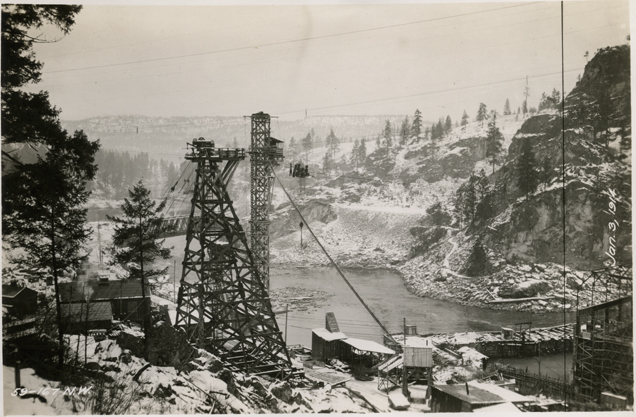 Head Tower of #4 Cableway looking down river. Jan. 3, 1914.
HISTORY
Long Lake Dam is located approximately 25 miles northeast of Spokane, Washington on the Spokane River. This facility was believed to have the highest spillway (170 feet) and largest turbines in the world when it was finished in 1915 by the Washington Water Power Company, and is listed in the National Register of Historic Places. Long Lake, behind the dam, is also known today as Lake Spokane. Joseph Beckman worked on its construction.
ARRANGEMENT AND DESCRIPTION
The collections consists of approximately 150 photographs and postcards from the construction of Long Lake Dam (near Spokane, WA), dating from approximately 1910-1914. The majority of the images deal with the construction of the dam proper, though a small number deal with the worker's relaxation activities or with local natives. A very few images may deal with nearby Little Falls Dam. The images are in no particular order. Approximately 90% of the images are labeled, but less than a quarter are dated. Also included in the collection is one two-page 1959 letter which serves as a brief biography of Beckman.
SEPARATED MATERIALS
The collection initially included approximately 50 additional photographs from WSC ca. 1910-1912, and a dozen or so pieces of ephemera or minor WSC publications. These were separated out, and interfiled into the Historical WSU Photographs Subject File (PC 2), ephemera collection, and appropriate places in the WSU Publications collection.
ACCESS
This collection is open and available for research use.
PREFERED CITATION
The suggested citation for the collection is:
[Item Description]
Joseph Beckman Photographs of Long Lake Dam Construction, 1910-1915 (PC 135)
Manuscripts, Archives, and Special Collections
Washington State University Libraries
Pullman, WA