SC 2
Historical Newspaper Collection
1721-1965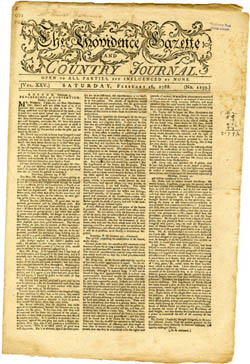 The Providence Gazette and Country Journal February 16, 1788
This collection was transferred to MASC from the general collections of the WSU Libraries in 2004. Katrina Paxton and Cheryl Gunselman processed this collection in 2004-2005.
Extent/Quantity Information
Linear Feet of Shelf Space: 122
Collection History
"If all the printed sources of history for a certain century or decade had to be destroyed save one, that which could be chosen with the greatest value to posterity would be a file of an important newspaper." (Clarence Saunders Brigham, 1947)
Faced with the rural isolation of the town of Pullman, Washington State College librarians actively sought to build and maintain a newspaper collection that represented historical, national, and international scope. The Historical Newspaper Collection represents only a fraction of the University's newspaper collection--in general, these items were singled out as a "special collection" because they were determined to have particular historical significance. These items were originally gathered from a wide variety of sources, and acquisition occurred over a period of ninety years. The majority of the collection was obtained though gifts, and through exchanges with other libraries.
Access
These newspapers vary widely in physical condition; in many cases the paper is fragile and cannot be safely photocopied, but the collection is available for on-site research use.
The suggested citation for the collection is:
[Item Description]
Historical Newspaper Collection
Manuscripts, Archives, and Special Collections
Washington State University Libraries
Pullman, WA
Related Materials
Many other newspaper resources, in various formats, are available through the Washington State University Libraries. For example, approximately a quarter of the titles in this collection are also available on microfilm at the Holland/Terrell Library. To explore the general library collections for these resources, use the WSU Libraries' online catalog. The catalog supports various types of searching, including title, keyword, and subject.
Arrangement and Description
The Historical Newspaper Collection includes approximately 440 titles. The collection contains newspapers that are both domestic and international in scope, with dates ranging from the eighteenth century to the twentieth century. Washington State papers are strongly represented. Titles found in this collection are generally single issues or short interrupted runs.
For researchers interested in newspapers as material objects, the collection includes a wide variety of examples of paper, printing, and occasional evidence of use (such as annotations, stamps, and other markings).
Prior to the transfer of these items to MASC, the "Historical Newspaper File" was treated as a small special collection within the general collections of the WSU Libraries. It was organized in a numerical system by file number, and information about the collection was maintained in a card catalog, which served as the sole means of intellectual access. The collection was referred to by WSU librarians as the "Shoebox Series" because of the boxes in which the catalog cards were stored. This catalog was transferred to MASC along with the newspapers and is included in the collection.
Not all of the items from the former collection were selected for inclusion in this Historical Newspaper Collection. Items that had been removed from individual manuscript collections were restored to their context in those collections; photocopies and other reproductions were not selected, with the exception of a few reprinted items; dates from 1960 onward were excluded. In a few cases, items were generally excluded on the basis of condition, when they were badly damaged and it was not feasible that they could be made sufficiently stable for use.
Series List