Cage 750
Gaines and McCulloch Family
Papers, 1902-2008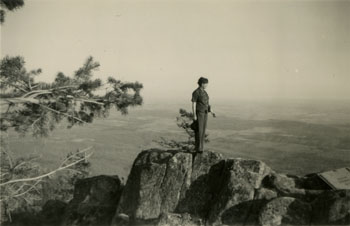 Xerpha Gaines on Moscow Mountain, 1940.
Acquisition And Processing Information
Jocelyn Liu donated these papers in 2009 to the Washington State University Libraries (MS 2009-21). The collection was processed by Susan Vetter in 2010.
Extent/Quantity Information
Number of Containers: 6
Linear Feet of Shelf Space: 4.5
Biography
Both the Gaines and McCulloch families arrived in Washington from the Midwest at the turn of the twentieth century. Edward F. Gaines (1886-1944) was born in Missouri and moved as a teenager with his family to a farm near Chewelah. The McCulloch family and young Xerpha Mae (1891-1970) left Wisconsin to homestead near Othello.
Edward F. Gaines graduated from the State Normal School at Cheney (now Eastern Washington University) in 1907. He then worked as a public school principal and teacher in Ritzville, where he met Xerpha Mae McCulloch, who graduated from high school there in 1910. Edward left Ritzville in 1909 to continue his education at the State College of Washington (now Washington State University) in Pullman where he earned his bachelor and master of science degrees in agronomy in 1911 and 1913, respectively.
Throughout his career, Edward was associated with several plant genetics pioneers, as a student, colleague, and mentor. One of his students was Karl Sax, who received his bachelor's degree in agriculture from WSC in 1916 and became a leading cytologist and plant geneticist, and National Academy of Science member. Sax credited Edward Gaines for introducing him as an undergraduate to research in plant breeding, and encouraging his pursuit of graduate studies, and they remained correspondents throughout Gaines's lifetime.
Another lifelong correspondent was Harry B. Humphrey, who had been Edward's botany professor at WSC and became long-time phytopathologist with the Bureau of Plant Industry of the United States Department of Agriculture (USDA). In an obituary for Edward in the journal Phytopathology, Humphrey wrote that his most important contributions centered on his genetic studies of bunt resistance in wheat and smut resistance in wheat and oats. Gaines developed the Triplet, Ridit, and Albit wheat varieties to increase both yields and smut resistance. Orville Vogel, renowned wheat breeder at WSU with the USDA, named two wheat varieties for Edward Gaines: Gaines (1961), the first semidwarf winter wheat for commercial production, and NuGaines (1965).
Xerpha McCulloch Gaines established her own legacy at WSC. Though she pursued her education at WSC in the first years of marriage, raising her four children delayed her graduation until 1930 when she received her bachelor of arts degree in education and was a member of Phi Beta Kappa.
Married in 1912, Edward F. and Xerpha McCulloch Gaines made their home in Pullman as Edward continued in his position as Assistant Cerealist and Instructor of Agronomy. Edward spent a semester at Harvard University in 1915 studying genetics and plant breeding under Dr. Edward M. East at the Bussey Institution for Research in Applied Biology. He returned in 1920, and received his Doctor of Science degree in 1921. At the same time, he continued on the faculty at WSC, rising to Cerealist in 1917 and serving as Assistant Professor of Farm Crops from 1918 to 1926, Associate Professor from 1926 to 1930, and as Professor of Genetics in Agronomy from 1930 until his death in 1944.
Xerpha began a collaboration in 1950 with Dr. Theodore Scheffer of the U.S. Biological Survey to collect plant specimens in the area around Grand Coulee Dam with their results published in a 1957 article: "A Botanical Survey of the Grand Coulee-Eastern Washington," Research Studies of the State College of Washington 25.3 (Sept. 1957): 207-235. In 1957 she accepted an invitation from the Museum of Northern Arizona for a May botanical collection raft trip down the Colorado River through the area soon to be inundated behind the Glen Canyon Dam. She published her results in an article, "Plants in Glen Canyon," Plateau 30, no. 2 (October 1957): 31-34.
For each of the above botanical surveys, Xerpha collected specimens for herbaria. The University of Washington's Burke Museum herbarium today lists nearly 400 specimens collected by Xerpha Gaines, many from the Grand Coulee surveys. A University of Utah publication about the 1957 Colorado River trip noted that Xerpha Gaines collected specimens from 150 species for the Museum of Northern Arizona herbarium. Because of her association with what is now WSU's Ownbey Herbarium, Xerpha duplicated her Glen Canyon specimens there as well as adding her many specimens collected over her years in the Palouse.
After retirement, Xerpha continued her work, identifying specimens from home at her kitchen table. The WSU Agronomy Club and Agronomy and Soils Department dedicated its Spring 1971 Agronomy and Men issue to Xerpha Gaines, noting that "[h]er reputation as an excellent 'seed hawk' was known throughout the Inland Empire and the State." Xerpha listed under "Hobbies, recreational activities, specialties" on a 1957 WSC personnel information form: "Taxonomy of plants and plant collecting Seeds." That lifelong interest culminated in the posthumous publication of a book, co-authored with D.G. Swan, Weeds of Eastern Washington & Adjacent Areas (1972).
In 2008, Dr. Stephen Jones, Director at the WSU Research and Extension Center in Mt. Vernon, released "Xerpha," a new variety of soft-white common winter wheat named after Xerpha Gaines.
Edward and Xerpha Gaines had four children: Edward M. (1913-2000), Xerpha Mae (1915-2003), John (1917-1955), and Grant (1922-1965). Xerpha Mae Gaines was always known as "Mae." All four siblings graduated from WSC. In 1938 Mae married Ramon Kent, who had a long career with the Soil Conservation Service primarily out of the Spokane office. Janice Gaines Walker, daughter of Grant, and Jocelyn Liu, granddaughter of Mae Gaines Kent, were instrumental in the donation of this collection to WSU.
Collection Description
This collection includes papers of Edward F. and Xerpha Mae McCulloch Gaines consisting of letters between them, correspondence with their children, other correspondence, newspaper clippings, photographs, research notes for both Edward. and Xerpha, a few professional papers, and some genealogical information. Of note in E.F. Gaines's "letter box" (subseries 2.4) is his correspondence with pioneers in plant genetics, many with State College of Washington (WSC) connections. Other items of interest include the courtship letters from Edward to Xerpha.
Collection Arrangement
The collection is arranged in six series, with Series 2 further divided into five subseries:
Series Descriptions
Series 1: Parents and siblings of E.F. Gaines and Xerpha Mae McCulloch, 1902-1929. This series includes genealogical information about the McCulloch family, some reproductions, and a few items about E.F. Gaines's sisters.
Series 2: Edward F. and Xerpha Mae McCulloch Gaines papers, 1907-1970
Subseries 2.1: E.F. Gaines to Xerpha McCulloch Gaines correspondence, 1910-1914. This subseries begins with the 1910 and 1911 postcards and letters from E.F. Gaines to Xerpha McCulloch. It continues with cards and letters from E.F. to Xerpha in the first years after their marriage.
Subseries 2.2: E.F. and Xerpha McCulloch Gaines correspondence, 1907-1970. Combining correspondence to E.F. Gaines and Xerpha McCulloch before and after their marriage, this subseries includes cards and letters received by E.F. and Xerpha including letters from their children.
Subseries 2.3: E.F. and Xerpha McCulloch Gaines, miscellaneous items, 1911-1970. This subseries collects sundry items from diplomas and obituaries for E.F. and Xerpha to address and memorial service guest books.
Subseries 2.4: E.F. Gaines letter box, 1913-1941. This subseries contains the contents of a pasteboard letter box of correspondence (incoming and outgoing). The original alphabetical arrangement has been retained. E.F. Gaines combined personal and professional topics here and arranged letters by subject or by name of correspondent or, for his outgoing correspondence, by addressee. Some letters to Xerpha Gaines are included. Interspersed with the correspondence are newspaper clippings and other items such as grade transcripts for their children, photographs, and some scientific publications.
The correspondence includes a number of letters from pioneers in plant genetics discussing their work and the state of the field in the first few decades of the 20th century. Some were WSC alumni such as Karl Sax, who became a leading cytogeneticist and a founder of the field of radiation cytology and a National Academy of Science member; William Ralph Singleton, who developed a hybrid sweet corn breeding program; and Frederick J. Stevenson, principal geneticist with National Potato Breeding Program beginning in 1930. Others were associated with programs at WSC: A. Leonard Melander, Professor of Entomology, E.C. Johnson, Dean of the College of Agriculture, E.G. Shafer, Professor of Agronomy, and Harry B. Humphrey, who had been professor of botany and the first with the title "plant pathologist" at WSC, and became long-time phytopathologist with the Bureau of Plant Industry of the USDA. Other correspondents include National Academy of Science members William E. Castle and Edward M. East of the Bussey Institution for Research in Applied Biology, Harvard University, and George H. Shull, founding editor of the journal Genetics.
This subseries also includes letters from the American Board of Commissioners of Foreign Missions (ABCFM) facility at Mt. Silinda, Southern Rhodesia (Zimbabwe), many by former WSC students there, and correspondence with the Leopold Schepp Foundation regarding a boy sponsored by Gaines.
Subseries 2.5: Xerpha Gaines professional project papers, 1940s-1970. Reflected in this subseries are a number of projects Xerpha Gaines participated in, some resulting in her authorship of professional publications. Among these were the preparation of an index for Enoch Albert Bryan's Historical Sketch of the State College of Washingtong1890-1925 (1928); a May 1957 botanical collection trip with the Museum of Northern Arizona down the Colorado River through the area soon to be inundated by the Glen Canyon Dam whose results Mrs. Gaines published in an article "Plants in Glen Canyon," Plateau 30.2 (October 1957): 31-34; and the book, co-authored with D.G. Swan, Weeds of Eastern Washington & Adjacent Areas (1972). Mrs. Gaines (with Theo. H. Scheffer) wrote "A Botanical Survey of the Grand Coulee-Eastern Washington," Research Studies of the State College of Washington 25.3 (Sept. 1957): 207-235.
Series 3: Children and Grandchildren of E.F. and Xerpha Gaines, primarily Mae Gaines Kent and Ramon Kent. The materials of Mae (Gaines) Kent dominate this series from her school days in the 1920s to her 1938 marriage to Ramon Kent up to the 1970s and the death of her mother Xerpha Gaines.
Series 4: Miscellaneous.
Series 5: Photographs. People and places represented in the photographs follow the generational distribution of the above series: McCulloch and Gaines families, E.F. Gaines and Xerpha McCulloch, their children, grandchildren and acquaintances.
Series 6: Oversize items.
Subjects
Gaines family
McCulloch family
Gaines, Xerpha M.
Gaines, Edward F. (Edward Franklin), 1886-1944
Kent, Mae (Xerpha Mae)
Washington State University -- Faculty -- Archives
Scientists -- Washington (State) -- Archives
Access
This collection is open and available for research use. Copyright restrictions apply.
Preferred Citation
The suggested citation for the collection is:
[Item Description]
Gaines and McCulloch Family papers, 1902-2008
Manuscripts, Archives, and Special Collections
Washington State University Libraries
Pullman, WA
Related Materials
Xerpha Mae Gaines Papers, Cage 122, includes notes on the Grand Coulee, Glen Canyon, and weeds of Eastern Washington projects described in Subseries 2.5.
Edward M. Gaines (son of Xerpha and Edward F.) was interviewed as a "golden grad" in 1984. That interview is housed in the Centennial Oral History Project, Oral Histories, 1982-1988, Archives 202.
W.S.U. Scrapbooks collection (PC 5) contains a Charles D. Gaines and Helen Gowdy photograph album.
Publication Note
During his school years at WSC, Edward wrote a number of letters to Xerpha that became the subject for a 2009 Washington State Magazine article:
Sudermann, Hannelore. "The Love Letters." Washington State Magazine 8, no. 2 (Spring 2009): 33-39.
Languages
Most documents are in English; however, a few are in German.