Cage 733
Ruth Slonim
Papers, circa 1900-2000
(bulk 1930-1990)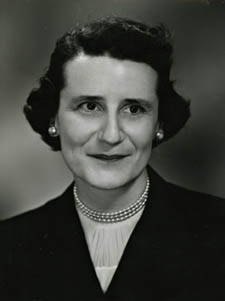 Ruth Slonim, circa 1950s
Acquisition and Processing Information
This collection of Ruth Slonim's papers was donated to the Washington State University Libraries by her estate after her death (MS 2007-10). It was processed by Ph.D. candidate Katy Fry in 2008 and 2009. The Washington Women's History Consortium provided funding assistance for processing.
Extent/Quantity Information
Number of Containers: 52
Linear Feet of Shelf Space: 27.5
Biography
Ruth Slonim was born in Chicago, Illinois on July 30, 1918, and grew up in Duluth, Minnesota. She earned a Bachelor of Education degree from Duluth State Teachers' College in 1938 and a Master's degree from the University of Minnesota in 1944. By 1952, she had completed all necessary course work to receive a Ph.D., but because of family complications was unable to finish her dissertation. She taught in the English department at Central Washington College from 1944 to 1946, before taking a position as a visiting professor at the University of Puerto Rico where she developed the humanities division of the General Education Program.
Slonim came to Washington State College, then the State College of Washington, in 1947 and taught modern poetry and English literature. She took a leave of absence in 1970 when she was invited by the School of Irish Studies University College and Trinity College to teach a course on William Butler Yeats. She taught at WSU for thirty-six years, retiring in 1983. Slonim was dedicated to teaching and strove to inspire her students and to instill in them a commitment to academic integrity, critical thinking, and compassion to those around them. Because of her tireless service to her students and to the university she received many awards and much recognition, including being named the Woman of Achievement in 1952. In 1965, students voted for her to receive the Outstanding Faculty Woman award; in 1966, the Washington division of the American Association of University Women named her a Distinguished Woman of Achievement. In 1967, she became the first woman faculty member to deliver the WSU Distinguished Faculty Address. Her faculty colleagues selected her to deliver the annual Invited Address in 1969. She served on many important university committees, including the Faculty Executive Committee, the University Planning Committee and the International Education Committee. Slonim was also keenly interested in international affairs and was a member of the U.S. Delegation to the International Conference of UNESCO in Paris in 1951.
Slonim published five volumes of poetry: "Sketchings" (1938); "London: An American Appreciation" (1954); "San Francisco: 'The City' in Verse" (1965); "Outer Traces, Inner Places" (1981) which was nominated for the Pulitzer Prize in Poetry; "Poems and Proems" (1992). Other poems and academic papers were published in various periodicals. In 1989, Washington State governor Booth Gardner gave her a Governor's Arts Award. In 1962, Slonim initiated the Poetry Reading Series at WSU, which continued through 1981. She was able to bring many notable poets to campus for this series, including William Stafford, Galway Kinnell, Richard Hugo, W.H. Auden, Carolyn Kizer and Gwendolyn Brooks.
Slonim died in Moscow, Idaho on February 16, 2005.
Collection Description
The collection includes Slonim's personal papers as well as materials related to her career and writing. The personal papers include primarily correspondence, personal memorabilia and notes from her time as a student. Letters from individuals worthy of interest are noted in the folder descriptions below. The professional papers include primarily correspondence, her time in Puerto Rico and as a delegate to UNESCO, materials related to her position at WSU, and manuscripts of her writing, including both typed and hand-written poetry.
Collection Arrangement
The collection is arranged in four series. Series 1 contains her personal papers; Series 2 contains her professional papers; and Series 3 contains photos; Series 4 contains miscellaneous and oversized items.
Series List
Series 1: Personal papers, 1930-2000
Series 2: Professional papers, 1938-1998
Series 3: Photographs, circa 1900-2000. Organized by subject.
Series 4: Oversize and miscellaneous, circa 1920-1997.
Subjects
Slonim, Ruth -- Archives
Poets, American -- 20th century -- Archives
Women poets, American -- 20th century -- Archives
Separated Material
Books received with this collection have been separated and cataloged individually. Small collections of papers of others, including Slonim's father, Sigmund Slonim, and her colleagues, Paul Philemon Kies and Frank and Irene Potter, were received with Slonim's papers and will be processed separately.
Access
This collection is open and available for research use. Copyright restrictions apply.
Preferred Citation
The suggested citation for the collection is:
[Item Description]
Ruth Slonim Papers, circa 1900-2000
Manuscripts, Archives, and Special Collections
Washington State University Libraries
Pullman, WA
Related Materials
Languages
The documents are primarily in English (some in shorthand); a few items related to Slonim's time in Puerto Rico are in Spanish.